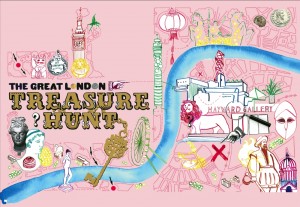 Do you have your own idea for a Treasure Hunt?
You write the Treasure Hunt; we provide the drivers and taxis.
Team Building & Product Launches
This "Design Your Own" option is perfect for product launches. You can promote your new product around London and give your employees a Team Building exercise at the same time!
Celebrate!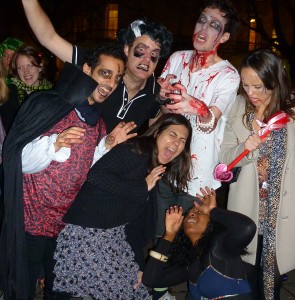 Make your treasure hunt a celebratory event! Feel free to provide your guests with a goodies hamper. We don't mind if they munch and sip their way around London. Just remember to toss a few crumbs to the drivers to keep their strength up!
Fancy Dress Themes
Feel free to come in Fancy Dress! One of our clients  held this Vampire-themed Treasure Hunt to celebrate the launch of a new product.
Leave It To the Experts
Our Treasure Hunt drivers are skilled and experienced at managing large and small groups of people. They will help you to keep things under control and keep your guests safe.
And no one knows London better than a taxi driver!
Our drivers love to join the fun and interact with your guests to make your Treasure Hunt event enjoyable and memorable.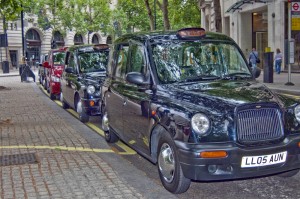 Our Taxis
The traditional style London taxi seats 5 people maximum (3 on the back seat plus 2 fold-up seats). It has the traditional look that we all know and love. It will accommodate a manual wheelchair (3 people plus 1 person in electric wheelchair).
The Mercedes Vito London taxi seats 6 people maximum. It does not have that traditional look but it is very comfortable and spacious. The Vito is equipped with two 12V power points enabling powered use of laptops and mobile telephones. It will also accommodate an electric wheelchair (3 people plus 1 person in electric wheelchair).
Prices
£95 per hour, per taxi
Minimum 3 hours
No "per person" cost. Up to 5 to 6 people per taxi (depending on style of taxi), inclusive in the hourly price
No administration fees, credit card fees, or taxes will be added to the price
Days and Times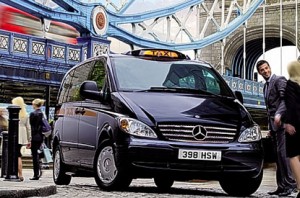 You can schedule your Treasure Hunt for any day and time that is convenient for you.
There is a minimum booking of 3 hours, but more time can be arranged if you choose.
Wheel Chair Accessible
All of our taxis are wheelchair accessible. Please mention at time of booking if you have an electric wheelchair, and we will ensure that you have a slightly larger taxi.
Pick-ups and Drop-offs
We will pick you up and drop you off at any Central London location at the time you specify, inclusive in the price.
No need to take public transport across town just to start your Treasure Hunt! We will greet you at the location of your choosing and see you safely delivered to your destination venue.
 

To Book Your Treasure Hunt:
No administration fees, credit card fees, or taxes will be added to the price
Please read our Terms & Conditions before booking